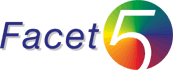 One of the most advanced personality profiling in the market that manages the employee lifecycle. Facet5 is a reliable approach to create and manage the main value of any company - Human Capital.
To maintain its professional credibility and to ensure that it continues to develop in line with practical experience and current theory, Facet5 is available only to accredited people. Training in the interpretation and management of Facet5 information is necessary.
The programmes are interactive using real data and situations to ensure that participants develop skills quickly, and in a way, which is immediately applicable. Learning Facet5 means learning about relationships. Materials include technical references, interpretation guides and case studies.
Places are limited, as the programmes are kept to a small number of participants and include participative exercises, individual work and discussion sessions to ensure that each person is able to learn in their most effective way.
Facet5 practitioner's accreditation is designed for Company Managers, HR Managers, Project Managers and Management Consultants.

The Facet5 practitioner's accreditation programme consists of two parts:

1. Training in the group (up to 10 participants)
Facet5 Accreditation workshop covers the theory and many practical tasks in the following areas:
The background and development of Facet5;
Concept of personality and the Big 5 theory;
Facet5 questionnaire;
Reliability and validity of Facet5;
Facet5 profile;
Facet5 factors and sub-factors in depth;
Response latency and its application;
Norm groups and languages;
Facet5 families;
Essential Facet5 feedback aspects;
Providing individual feedback;
Application of Facet5 data in the key areas of employee lifecycle in organization.
2. The Facet5 practitioner's exam (individual sessions)

The Facet5 practitioner's exam consists from two parts: on-line test and a real Facet5 feedback session under the supervision of master trainer.
International Facet5 practitioner's accreditation:
Date: 25th, 26th, 27th, 28th, 29th September & 2nd October 2023
Time: 09:00 - 13:00
Place: J. Galvydzio str. 5, Vilnius
Language: English

Registration: info@ipm.lt or 8-699 76996
You can find our clients' references about the Facet5 personality assessment tool
here
.